Whether your saxophone technique needs developing or your musical soul needs healing - this is the place for your therapy. Professional musician Martin Langford can help you with private music lessons or furnish your special occasion with Live Music!




THE SAX THERAPIST is recorded on NOW Records, Inc. and CD's are available.

Let me help you with your musical needs. Either I am exactly what you are looking for or I will tell you where to find it.

THE SAX THERAPIST is a single musician, Martin Langford, performing on saxophone and flute. His accompaniment is written and performed by himself through an electronic media.
This is the perfect complement to an intimate setting.


DUO TO QUARTET includes a wide range repertoire. The musical style varies from quiet beginnings to "get them on the dance floor."
This group is especially popular with 'theme' parties.


THE BLUE GNUS is a five to six piece Jazz group performing in the 'traditional' jazz style. The musical excellence of these quality musicians is apparent throughout the evening
Adding a touch of sophistication to any gathering.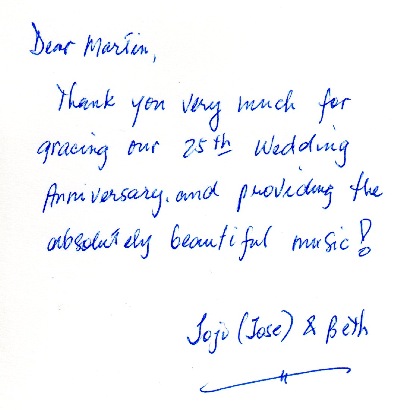 Thank You note received by The Sax Therapist, Martin Langford, for his contribution to the 25th Wedding Anniversary Dinner and Dance of Lilibeth and Jose Jimenez.